[Cluster PVE] - Les Nomades (7 maps)
Share This Server
Discord Server
Statistics
Uptime
Vote(s)
1
Rank
948
Score
5
Favorited
0
Discussion(s)
0
Share This Server
Description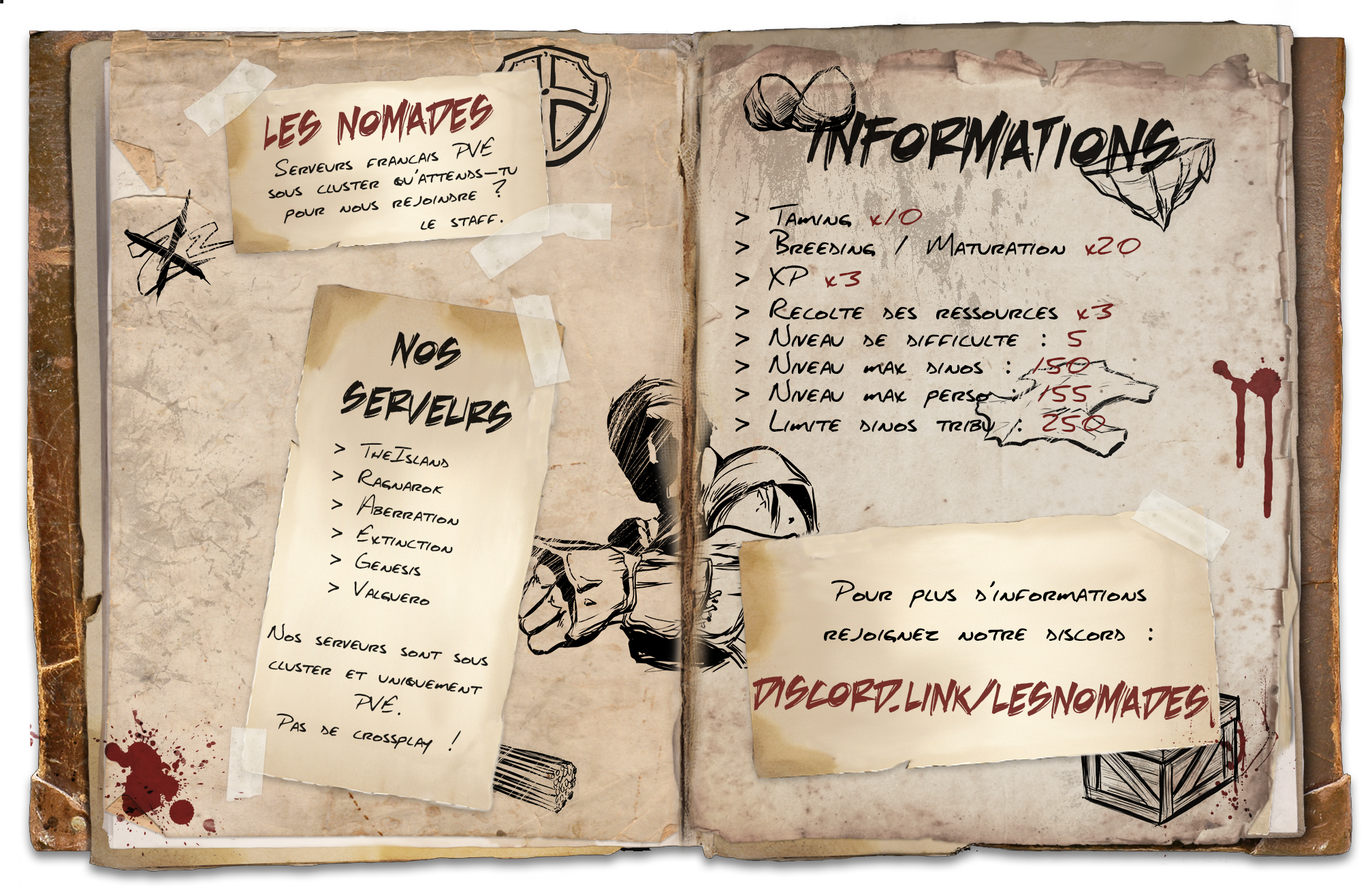 LES NOMADES CLUSTER PVE
Communauté conviviale de joueur FR ARK Survival créer mi-septembre 2020.
====== CLUSTER 6 MAPS ======
DLC Genesis 95.156.230.63:27055
DLC Valguero 95.156.230.63:27065
DLC Ragnarok 95.156.230.63:27025
DLC The Island 95.156.230.63:27015
DLC Extinction 95.156.230.63:27045
DLC Aberration 95.156.230.63:27035
DLC Crystal Isles 95.156.230.63:27075
====== RÉGLAGES ============
Tous les serveurs disposent des mêmes réglages et mods.
Nous travaillons continuellement sur un équilibre difficulté / détente avec des réglages totalement personnalisés.
Taming X10
Breeding X20
XP X3
Niveau de difficulté 5
Récolte des ressources X3
Niveau max. des dinos sauvages 150
Limite de dinos par tribu 250
Qualité des loots X3
Transfert personnage, objets et dinos autorisé
====== MODS =================
Les mods sont les mêmes pour tout les serveurs
Nos Mods : Super Structures (SS) | Better Spawns | Awesome Spyglass |Tribute and Element Transfers | Dino Storage v2 | Death Inventory Keeper
====== INFOS =================
Rejoignez-nous sur notre Discord pour plus d'informations :
DISCORD : https://discord.gg/PUxFYcS
Au plaisir de vous voir in-game !
L'équipe Les Nomades.
jks, Jean Robert prem..., WarDogggs