A new month has begun, all votes have been reset.
Community Crunch 377: Shastasaurus Concept Art, Creature Submissions, and More!
Posted on September 1st, 2023 07:04 PM EST

The vast oceans of The Center will shudder in awe when Shastasaurus makes its majestic arrival in ARK: Survival Ascenced. Although we're only showing a look at an untamed Shastasaurus, we're preparing to unveil this oceanic titan with its saddle concept soon!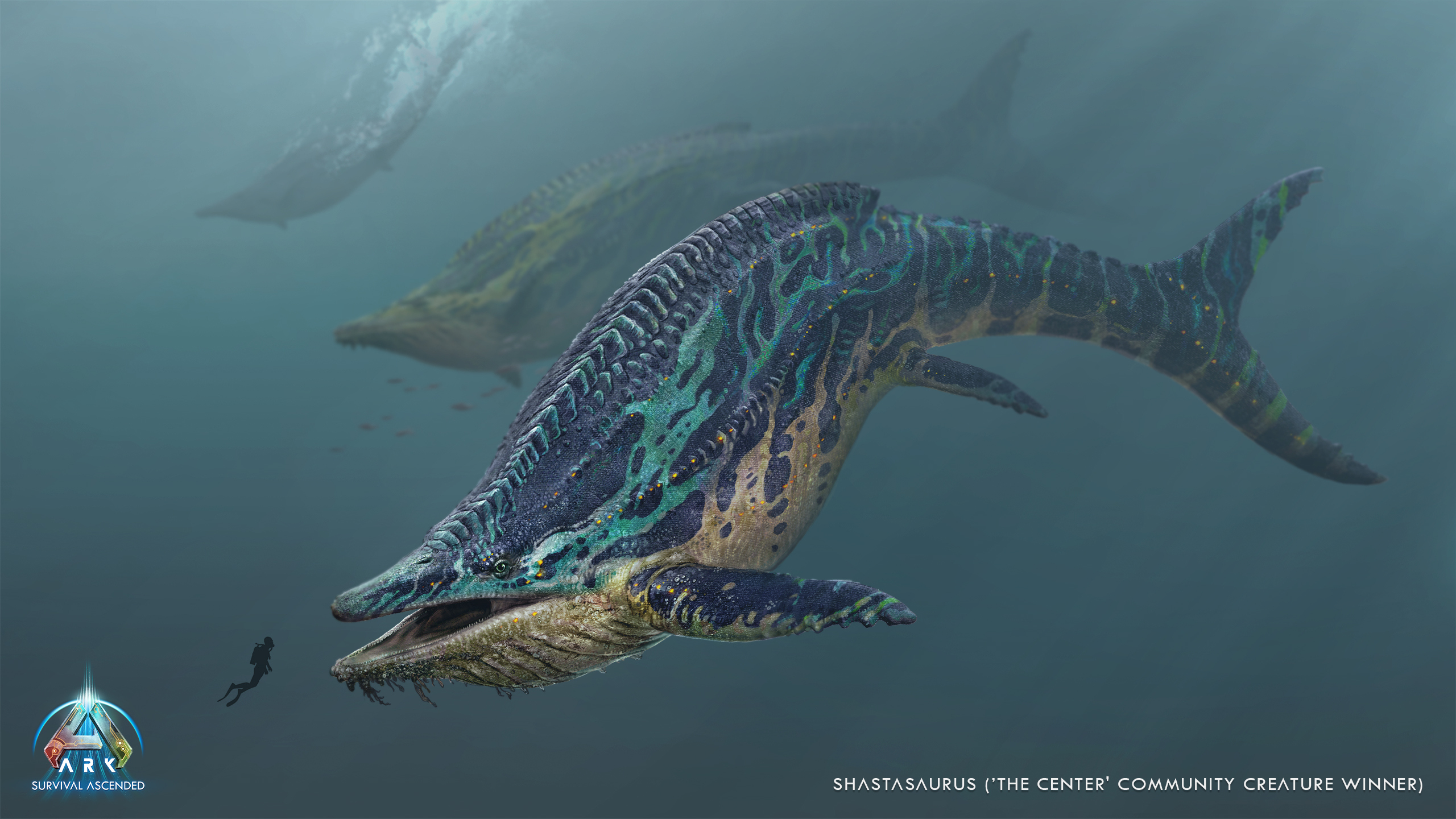 Download in full resolution
[drive.google.com]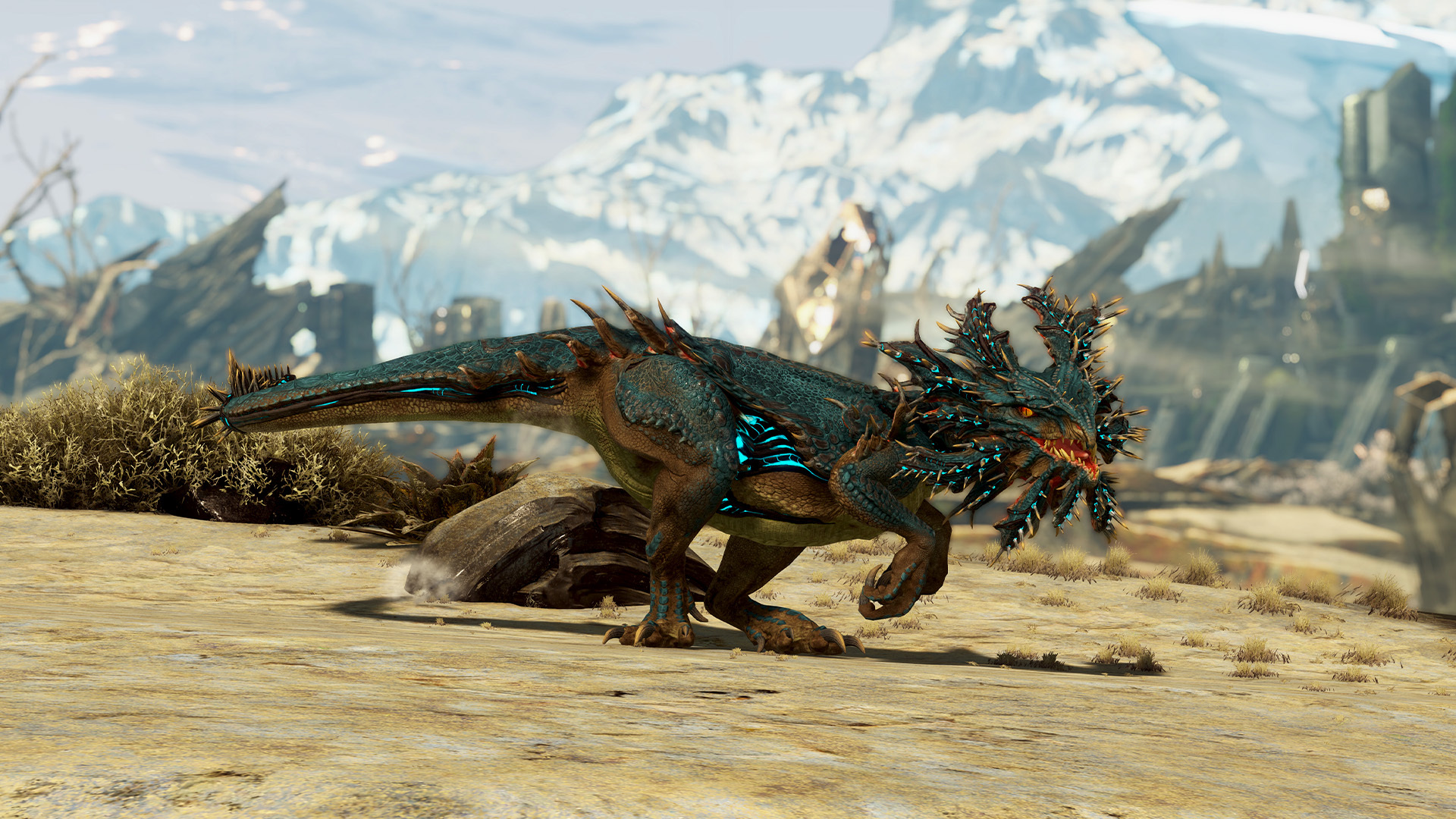 We are landing on the corrupted world of
Extinction
for our next Community Creature Contest. What will be the fan-voted real-world creature that will launch with the map for ARK: Survival Ascended? 
Please note that this creature will be released for
Extinction
, so make sure your real-world submissions are in theme with that map! As previously stated, we'll add an additional real-world creature for each expansion pack map release on
ARK: Survival Ascended
.
Check out the
Creature Submission Guidelines
[survivetheark.com]
for more information on the submission process, and hop over to the
Creature Submission Forum
[survivetheark.com]
to see the current entries. We are looking forward to seeing your ideas come to life!
The entry period will end at 1 PM Pacific on September 11th.

The voting will begin immediately after and end on September 18th at 1PM Pacific. 

The winner will be announced in the Crunch of September 22nd.
Make sure to check our
Twitter
on September 11th for the RankedVote link!
*Note that the proposed features for the creatures from the submission entry are meant to inspire their design, but certain aspects may still be modified.

To recap previous announcements, we have taken save games from the Official Network and have provided the files to you so that you can host your own server and continue the progress you've made on the Official Network.
We have already taken one snapshot and intend to take another during the week of the Official Network Shutdown in September.
Browse August save games
here
[survivetheark.com]
Nitrado servers using the Official Save games are now available here

[server.nitrado.net]
You'll be able to:
Access to all official save games for all platforms – PC, PlayStation, and Xbox.

Easily import the save game with one click using the web interface.

Have access to a comprehensive guide and FAQs telling you everything you need to know about hosting servers.

For more information, please visit this page

[server.nitrado.net]

.
Remember, we'll be taking another save snapshot during the week of the Official Network Shutdown in September in preparation for ASA's October release, with more details to come at a later date!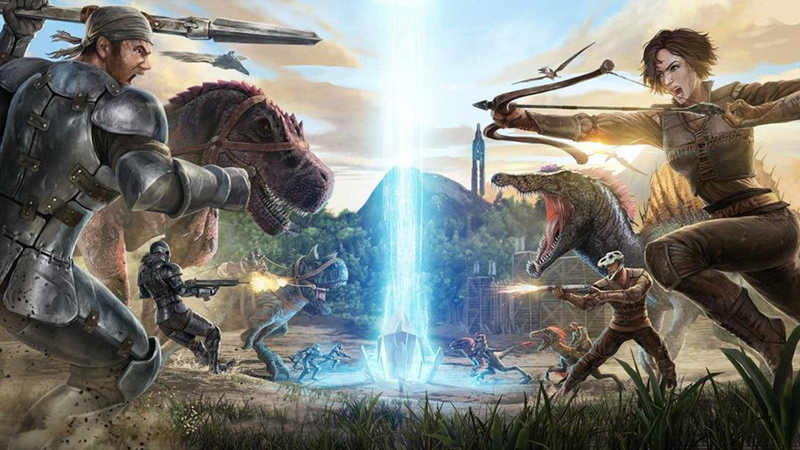 In 2019, the launch of the Snail Games Initiative, Classic PvP, created an exciting and competitive playing experience for PC players. Throughout the course of the seasons, the meta was watched closely and changes were made to shake things up and create an experience tailored for PvP gameplay. Continue on the quest for the ultimate PvP experience with the introduction of Classic PvP Season 7!
Classic PvP Season 7 is now live! 

Check out Crunch 376 for all the details.Survivors on all platforms will be receiving an EVO Event! It will be active until Tuesday, September 5th.All Official Servers across each platform will be undergoing this evolutionary change which includes:*Note that these bonuses are multiplicative of the game's standard 1x rates.

Official Servers: 2x XP, Harvesting, Taming and Breeding (imprint, maturation, hatch/gestation), 0.5x Mating Interval, 2x hexagon

Small Tribe Servers: 4.5x XP, Harvesting, Taming and Breeding (imprint, maturation, hatch/gestation), 0.5x Mating Interval, 2x hexagon

ARKPocalypse: 5x XP, Harvesting, Taming and Breeding (imprint, maturation, hatch/gestation), 0.5x Mating Interval, 2x hexagon

Conquest: 5x XP, Harvesting, Taming and Breeding (imprint, maturation, hatch/gestation), 0.5x Mating Interval, 2x hexagon

Fan Art Gallery

[survivetheark.com]

| Screenshot Gallery

[survivetheark.com]

| Artist Feedback Form

[docs.google.com]

Creator: BitMoreDaveWhen Myth Busters meet ARK: BitMoreDave is here to confirm or bust some ARK myths!Creator: TheGamingClassroomJoin TheGamingClassroom as he discovers the joys of Megalania on The Center!Extinction by @WolfTek7Kaprosuchus by ValmarBDAre you getting hungry? by @falco_lunaGoofy color wheel by @Snudoo1Rock Drake in the Red Zone by BumpySlays22Raptor drawing by korrigusARK sprites by aceofintuitionScreenshot by renyiszExcellent work by Primeval Pickles by WickedNinjaGamesScorched Earth, aka The Map That Turned Me Feral by 13skeletonsEnjoy your weekend!Studio WildcardTwitter: twitter.com/survivethearkDiscord: discord.com/invite/playarkReddit: reddit.com/r/playarkInstagram: instagram.com/survivethearkTwitch: twitch.tv/survivethearkSteam: steamcommunity.com/app/346110Youtube: youtube.com/survivethearkFacebook: facebook.com/survivethearkThreads: threads.net/@survivethearkOfficial Wiki: https://ark.wiki.gg/wiki/ARK_Survival_Evolved_Wiki
Click here for the source of this article
RSS Feed